When this Georgia Girl returned from being in the navy, she swore she'd never leave Georgia again.
So much for that.
Jonny and I bought our first home today in Smiths Station, Alabama. Our home is located not even 10 miles from the state line. Benefits to buying in Alabama include lower taxes, lower insurance and a whole lot more house for alot less money. We bought our 1279 sq ft house, as a foreclosure for $100K. When we looked at houses in GA, the houses that were in this price range were much smaller and not near as nice.
Smiths Station AL actually runs on Eastern Time, even though Alabama is Central time. It's a good thing, too, because it was going to SUCK trying to adapt to living in one time zone while working in another.
I don't have any pictures of our own yet, so for now, I'll cheat and post this one that I saved from the MLS listing. You can tell this pic is from the winter because there are no leaves on the trees.
We got our entire earnest money deposit back, so today, we went SHOPPING! I bought 3 new tables for the living room to match the coffee table I already have. They had to be ordered, so it'll be about a week and a half before they come in.
Here's the coffee table I already had. I bought it from Big Lots in 2005 with 2 broken tiles that I replaced at Home Depot. It's an Ashley Furniture piece - the collection is called Antigo.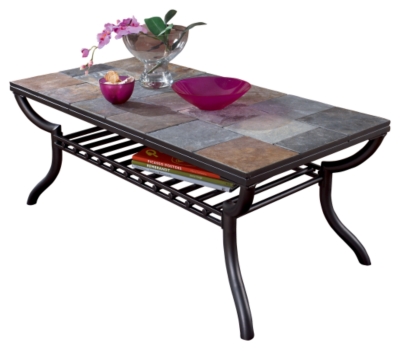 Blogger is not cooperating for me to upload alot of pictures, but the 3 new tables I bought today match this one. 2 end tables, and a sofa table. Pictures of the finished product will come as soon as we're moved in and set up.
We also looked at rugs while we were at the furniture store and I had just about given up when we were walking out and I found the $99 rug section...which of course NEVER have anything good to choose from. YEAH RIGHT! I found one and it was GREAT. Unfortunately, I don't have a picture yet.
Tomorrow will be a busy day - more shopping, more prepping, etc. This is such an exciting time, and I'm so glad to finally be able to do this..... YAY!!!